Netherrocks Mod 1.16.5 => 1.5.2 is a mod that aims to add some fun and dynamism to the Nether dimension. To do this, the mod focuses on generating more than six new mineral resources that can only be found in the Nether extent. Up to six new mineral resources, exclusive to Nether.
The new mineral resources added by the mod are illuminate, aragonite, malachite, dragon stone, ashstone and pyrite. These new resources will allow you to develop new building blocks, weapon sets, tools and armor pieces for your character.
To process the new mineral resources that this mod adds, you can manufacture a new oven, an oven alter and a smoker. They run on Nether fuels, rather than Overworld coal, such as pyrite, Blaze rods and Netherrack.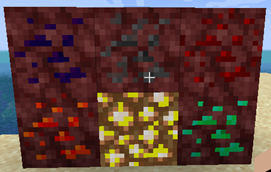 Netherrocks adds 6 more ores to the base game that are found only in the Nether: Argonite, Ashstone, Dragonstone, Fyrite, Illumenite, and Malachite. Each ore has its own unique properties, armor and tool sets, and more. Dragonstone, ashstone, and argonite range from tough to extremely tough. Fyrite is a metal of heat and fire; fyrite tools set things on fire or cook them, while fyrite armor protects the wearer from lava. Illumenite glows brightly, and an illumenite sword lets you see in darkness for a short time when you attack someone, and may blind your target briefly. Malachite armor is very light, and lets you jump higher, while malachite swords are poisonous to their targets.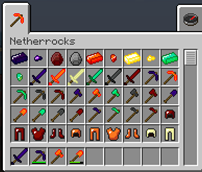 Netherrocks for 1.16.3 and later REQUIRES SimpleCoreLib.
Netherrocks for 1.14.4 through 1.16.1 does not require SimpleOres API.
Netherrocks also adds a furnace, smoker and blast furnace powered by nether fuels such as netherrack, blaze rods, or fyrite.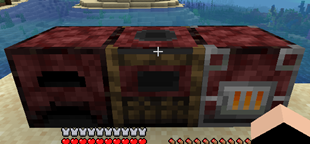 The original mod was by AleXndrTheGr8st, aka Skrallexy. Sinhika is the current off-and-on maintainer. The current code is licensed under LGPL 3.0, so go wild, modpack makers!
Netherrocks has been ported to 1.15.2 and back-ported to 1.14.4.
How to install Netherrocks Mod 1.16.5 => 1.5.2:
Make sure you have Minecraft Forge , SimpleCore API
Download Netherrocks Mod from link(s) below/above
On PC Windows, Go to the Start menu
Type:  %appdata%/.minecraft
Press Enter to Run %appdata%/.minecraft
On macOS open finder, hold down ALT, and click Go then Library in the top menu bar. Open the folder Application Support and look for Minecraft.
Go to minecraft/mods folder
If the Mods folder does not exist, create one
Paste the downloaded "SimpleCore API" file into the .minecraft/mods folder
Paste the downloaded mod file into the .minecraft/mods folder
Now we can enjoy the automatic opening of doors!
Download Netherrocks Mod for Minecraft 1.16.5 => 1.5.2