How to install Minecraft mods and resource packs, Just note that mods and resource packs only work with the "Java Edition" of "Minecraft," available for Mac, Windows, and Linux computers.
What are Minecraft mods?
Mods in Minecraft are an extended version of the game. To play Minecraft game better than Moder programmed to create more kinds of animals, or create equipment like in avengers, dragon eggs hatch into dragons …
example of mod:
Just Enough Items
Minecraft is a huge game, and inside, dozens of blocks and items (items) are for you to collect. If you ever want to know what to use to create a certain item, Just Enough Items will be the mod for you. This is a quite useful tool, allowing you to access the menu containing all the widgets and sorted by category. You can easily know what the recipe for creating any item that needs to be used is in here.
Link: Just Enough Items
Or Decocraft:
If you feel that furniture in Minecraft is not enough, Decocraft will be a practical solution. Decocraft mod adds thousands of widgets into your Minecraft world, some of which can be used properly. You can create toys, bridges, decorations for the festive seasons, lanterns, mirrors, and thousands of other items, freely customize your world. More: Decocraft mod
What are Minecraft resource packs?
Resource Packs also known as resource packs, are a lovely type of feature in Minecraft. It helps to change the shape of blocks, animals, or even raindrops effects to become more vivid and beautiful.
What are Minecraft forge?
To use mods in Minecraft, you need to install Minecraft Forge, find the mods you want online, add your mods to "Minecraft," and troubleshoot any problems that may arise.
Install Minecraft Forge
Before you can install "Minecraft" mods, you'll need to install a free app called Minecraft Forge. Forge is a third-party program that lets you manage, installs, enable, and delete any mod.
You can download Minecraft Forge from https://dlminecraft.com/mod/minecraft-forge-api/. Try to download the "Recommended" version, and make sure that the number in the left sidebar corresponds with the version of "Minecraft" that you have.
After you've downloaded and installed Forge, restart your computer, and open the Minecraft Launcher. You should see a new options menu — pick "Forge" from this menu and then press "Play."
This will launch "Minecraft" with Forge enabled. If you've done it right, you'll see a new menu titled "Mods" in the main menu.
Find and Download Minecraft Mods that you want
There are dozens of sites that offer "Minecraft" mods for free. Two of the most popular are dlminecraft.com and curseforge, wminecraft. If you can't find the mods you want there, you can always try searching for them on Google.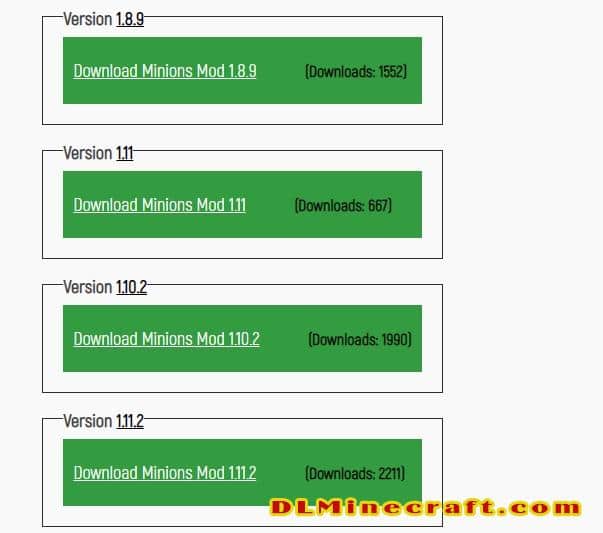 Also make sure that any mod you download is compatible with the specific version of "Minecraft" that you're running. Both these sites have search features and comment sections, which let users report any issues they've had from a mod download.
Add your mod to 'Minecraft'

1.Save your downloaded mod
To see your mod in action, download the mod file you want, and then place it in a folder created by Forge called "mods." If you can't find this folder, save your downloaded mod file anywhere else that you can find it.