Just Enough Items Mod is a beautiful mod version for the Minecraft game and is built towards stability and increased game performance.
With so many items and objects that can be crafted in the Minecraft world, I can say that learning each recipe by memory is a daunting task. Just Enough Items Mod, is one of the first mods released for Minecraft to support item viewing. With this Minecraft Mod, players will be supported by tracking and searching for items and item crafting recipes.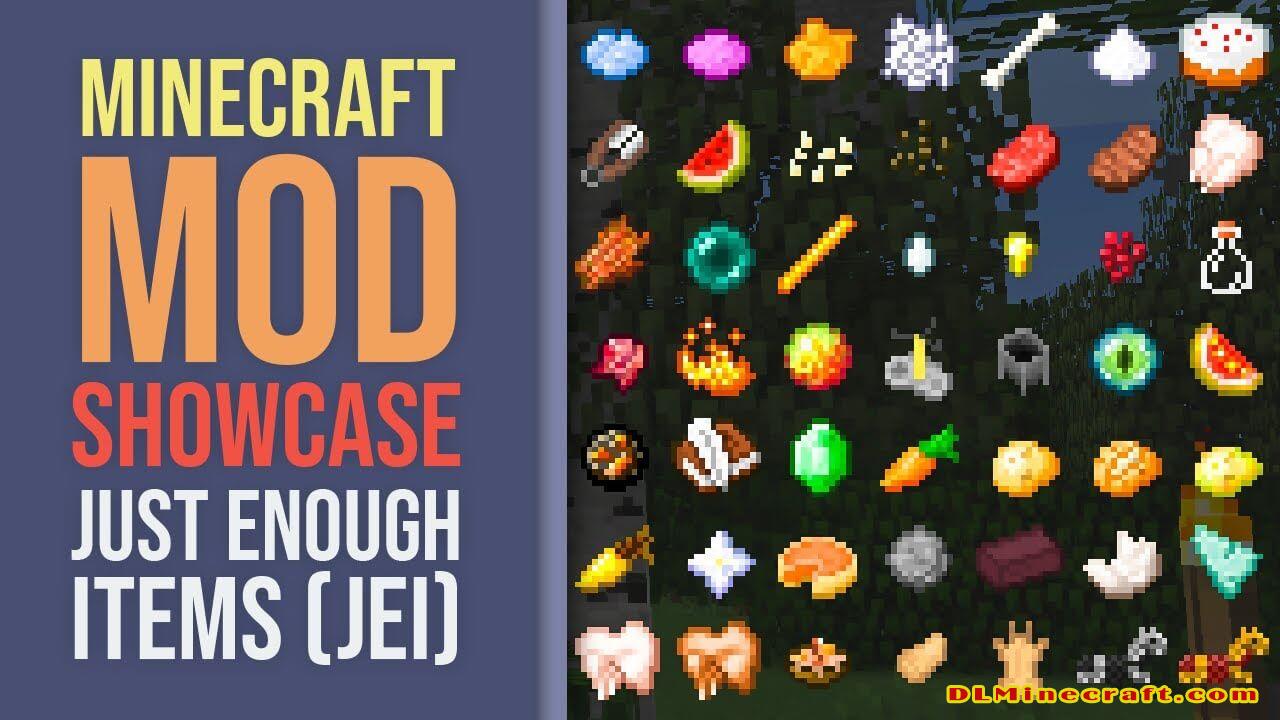 What is Just Enough Items Mod?
Just Enough Items Mod for Minecraft is a mod that supports viewing items as well as recipes when playing Minecraft games. This Minecraft Mod is quite similar to Not Enough Items – a mod is equally famous in the community of players. This is a Minecraft mod that is especially useful when you have a huge inventory of items, recipes or simply want to test some new items.
Just Enough Items Mod features:
The Just Enough Items mod allows players to at any time check each recipe for any block and other objects in the game. Besides Vanilla objects, we can also find every recipe for objects added by other mods.
Just Enough Items Mod has two modes, including decoding mode and crafting mode. The decoding mode allows players to test their creativity and experience the items in the latest version, while crafting recipe mode will bring interesting item-making recipes for players. This Mode version will provide you with the full set of Minecraft game items, and you will experience a much more enjoyable version of Minecraft.
View items easily with the Just Enough Items Mod
How to use:
Basic Controls:
Inventory: (Minecraft Options -> Controls)
Show Recipes: Hover over item + R
Show Uses: Hover over item + U
Toggle Item List Overlay: Control + O
Item List:
Show Recipes Click Item or type R
Show Uses : Right-Click Item or type U
Next/Previous page: Scroll Wheel
Search:
Select Search Bar: Click or Control + F
Clear Search: Right Click

Previous Search: Up Arrow
Search by Mod Name: Type @ in front of a word (like "@thaum")
Multiple terms work together (like "wand @thaum")
Recipe View:
Next/Previous page: Scroll Wheel
Show all Recipes: Click the recipe category's name
Move items into crafting area: Click the [+] button. Shift-Click to move multiple sets of items.
Advanced Controls:
Advanced Search:
Search by Tooltip Only: Type # in front of a word
Search by OreDict name: Type $ in front of a word
Search by Creative Tab: Type % in front of a word
Multiple Searches: Separate terms with | characters, like "wrench|hammer"
With Cheat Mode Active:
Get a full stack of Items: Click Item

Get one Item: Right-Click Item

Delete Item: Drop an Item into the Item List
With Item List Edit Mode Active:
(These controls are shown in-game on the item tooltip)
Hide Item: Control-Click Item

Hide Items and Sub-Items: Control-Right-Click Item

Hide all Items from a mod: Control-Shift-Click Item
Just Enough Items Mod Installation Guides:
Make sure you have Minecraft Forge
If not, Download and Install the latest version of Minecraft Forge
Download Not Enough Items Mod file from link(s) below/above
On PC Windows, Go to the Start menu
Type:  %appdata%/.minecraft
Press Enter to Run %appdata%/.minecraft
On mac open finder, hold down ALT and click Go then Library in the top menu bar. Open the folder Application Support and look for Minecraft.
Go to minecraft/modsfolder
If Mods folder does not exist, create one
Put Not Enough Items Mod file into the mods folder
Launch Minecraft using Forge Profile, then Open Menu
Enjoy!
Note: Please make sure you create a backup before installing any mods so you won't have any issues with Minecaft.
Minecraft Forge(Modding API) Installation Guide
5 steps to successfully install Forge Minecraft
1. Access and Download select Minecraft forge version, then download the installer.
2. Requires installing Java on a computer. Open the .jar file you just downloaded, make sure 'Install Client' is selected, and click the OK button.
3. Run Minecraft and select the Forge profile, then click Play.
4. Select the Minecraft Forge menu on the left and the Mods button below Multiplayer.
5. Successfully, you can enjoy the mod just installed.
FAQ:
Is Just Enough Items Mod free to install?
Yes. You can download it for free at Curseforge or at the link below
What are the two benefits of Just Enough Items Mod?
Just Enough Items Mod (JEI) is a stripped-down item and recipe viewing mod for Minecraft
Related Mods:
Download Just Enough Items Mod for Minecraft 1.16.4,1.16.2,1.15.2,1.14.4,1.12.2,1.10.2…
Author: mezz