Download Game Valheim for PC with the 90% Vietnamese version. Valheim is a survival game inspired by the Valheim world in ancient Viking mythology. This is where the Viking warriors after death can come to train and perfect themselves. Players will experience the feeling of fighting and survival to train themselves in that wonderful mythical world.
This survival game is similar to how to play Minecraft, but in terms of graphics and creativity, I think it is great
Gameplay Valheim
Feature:
Flexible home and base building system.

Intuitive system for crafting items (weapons, armor, food, etc.).

The giant procedural world was created.

Combat system with various techniques (dodge, block), as well as a variety of weapons.

Boss battles and titles.

Practical nutrition and health system.

Shipbuilding capabilities.

Multiplayer (emphasis on cooperative action).
Configure Valheim
Below is the detailed configuration information required for this game to be posted on Steam. You take a look and compare with your computer configuration to decide whether to download Valheim Full to play or not.
Minimum configuration:
Requires 64-bit processor and operating system

OS:

  Windows 7 or later

CPU: 2.6 GHz Dual Core or similar
RAM: 4 GB
Graphics: GeForce GTX 500 series or similar

DirectX:

  Version 11

Capacity:

  1 GB of free space
Recommended configuration:
Requires 64-bit processor and operating system

OS:

  Windows 7 or later

CPU: i5 3GHz or better
RAM: 8 GB
Graphics: GeForce GTX 970 series or similar

DirectX:

  Version 11

Capacity:

  1 GB of free space
Some Pictures in Vietnamese version of Valheim
The whole game, thanks to the ability to diversify the open world with the algorithm, each map is different, so Valheim's capacity is only 1.03 GB.
Download Patch Valheim Vietnamese
v0.147.3:  Link to download here
Pass: gametiengviet.com
Download Game Valheim for PC
Download Game Valheim v0.141.2 (Not official):  Here
Buy a genuine copy of the Stream home page  here
Gameplay Valheim
1. Gameplay
Coming to Valheim, you will become a Viking warrior – a protector of the ancient Valheim purgatory land. Before the onslaught of evil forces, you will need to fight against the attacks, build your own base and restore the inherent order of this land.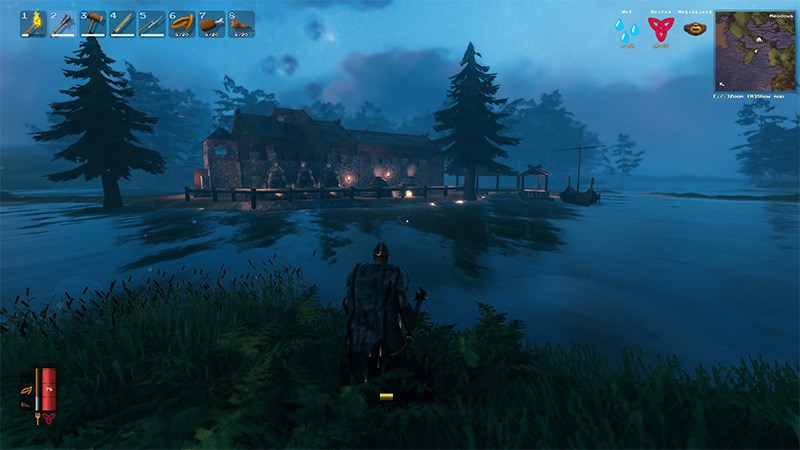 Experience the feeling of fighting and survival
With the nature of a survival game, you will need to pay attention to factors such as the amount of blood, hunger, thirst, etc. necessary to help yourself fight the harsh elements of this land.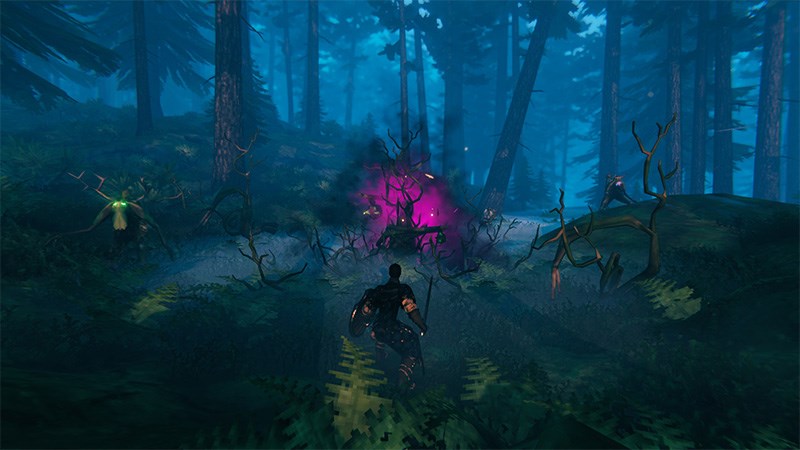 Stop mighty chaos monsters
In addition, you also need to go on adventures and fight evil creatures. In order to be able to repel them and restore the lands attacked by these creatures. Through these adventures, you can unlock more areas to get more resources and items needed for your survival.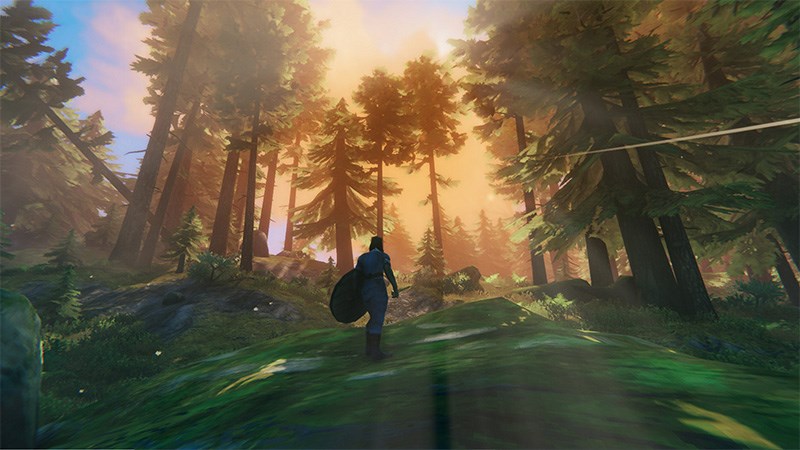 Conquer beautiful new lands
2. Fabrication tool system
In Valheim, to help your survival process become more efficient. You can craft your own tools and use them to create a variety of equipment, dishes, utensils and many other essential items. There are 6 main tools in Valheim including:
Forge:

  You can use the Forge to craft items such as armor, arrows, weapons, shields and many other mining tools.

Fermentation Barrels:

  With the Barrel Fermentation, you can create a variety of drinking water, drugs as well as poisons and use them in the process of fighting and survival.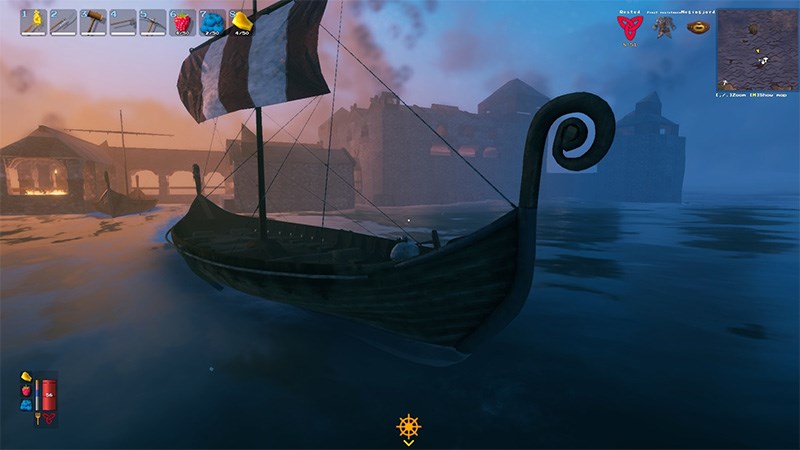 Sailboats will help you explore and conquer new lands
Boat:

  With a Boat you will be able to go on adventures in swampy areas. As well as sail out to sea and explore other mysterious lands. To be able to bring back valuable resources and find new lands.

Desk:

  With the Desk, you will be able to create ingredients that have been upgraded so that you can craft items with higher attributes, as well as have better stats.

Metallurgical Furnace: An

  Alchemy Furnace will allow you to use more advanced materials. Through that, it is possible to craft sturdy, powerful equipment with a higher strength index.

Cooking Cauldron:

  With this Cooking Cauldron, you will be able to cook a wide variety of foods, by combining the ingredients collected during your survival and battle.
3. Equipped system
To help increase the strength as well as the ability to fight for the character, you can through the tools to craft your own equipment such as Armor, Arrows, Weapons, Shields, … and use them. during his fight.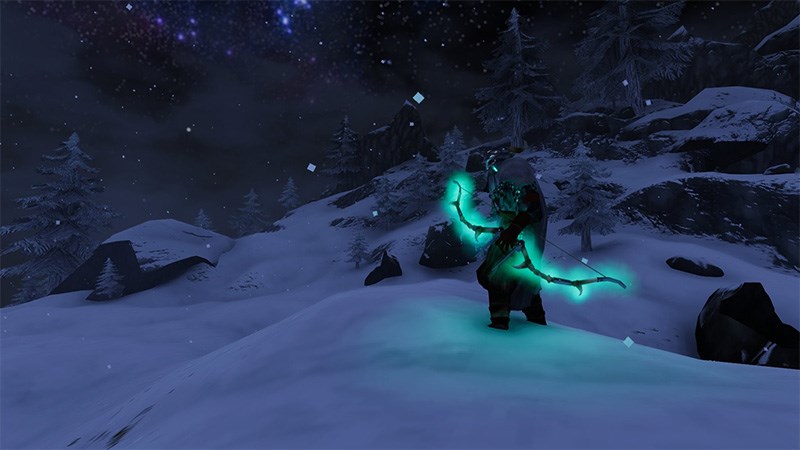 With quality weapons, your battles will become easier
The number of equipment and weapons in Valheim is extremely large and varied in types. You can use the materials you collect on your adventure to quickly craft a basic equipment and weapon. Or through the Metallurgical Furnace, Work Table as well as the Forging Furnace to craft more advanced equipment. In addition, you can also use high-quality ingredients to enhance and upgrade your equipment.
4. Unlimited open world
Valheim owns a multitude of maps as well as different areas. You will be able to explore them in turn through the process of fighting as well as performing assigned missions. In each area you will have to face challenges as well as different types of dark creatures. You need to destroy them in order to control these areas.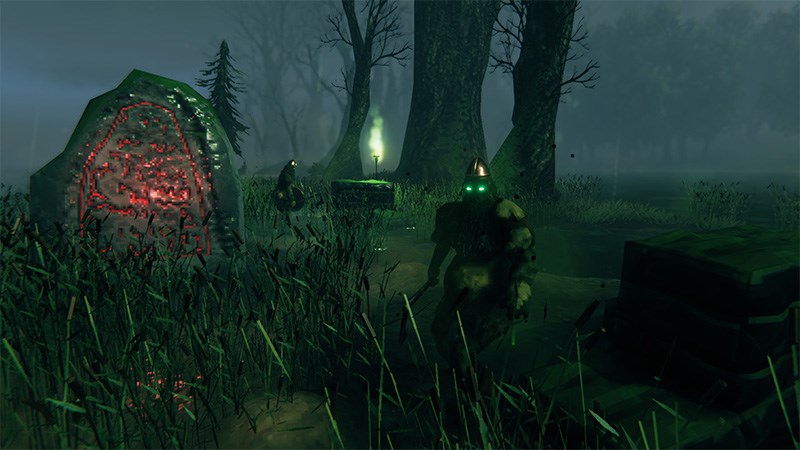 Each area will be held by different monsters
With a vast and extremely large world, you will be able to unleash to explore and experience extremely dramatic and engaging combat senses. Moreover, conquering these new lands, you can also find many new items as well as materials and equipment. Thereby helping our equipment system as well as our items become richer and more diverse.
5. Play co-op with your friends
The interesting point in Valheim lies in the fact that you will be able to experience the adventures and discoveries with your friends. The game allows you to invite your friends to join.
With 2 to 5 players on co-op at the same time. The work to be done will be divided, thereby speeding up, allowing more time for other exploration activities. Besides, with a large number of players, boss battles, monster hunting will become simpler, more interesting and much more attractive.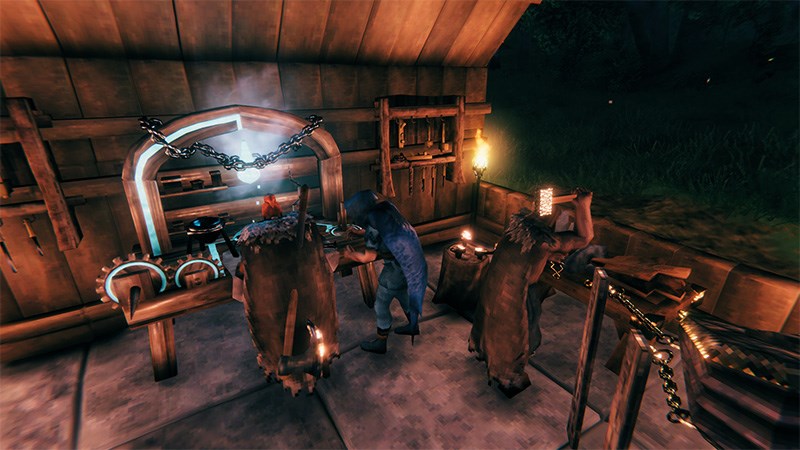 Coop and friends will help reduce the amount of work each person needs to do
Moreover, Valheim also gives you the PVE experience with up to 10 players participating. Thereby creating Boss battles full of excitement, drama and much more attractive.
6. Unleash your creativity
Above all, Valheim allows the player to unleash creativity through the creation of countless new dishes, tools, and equipment. By combining ingredients you can find on the adventure journey. At the same time, you can also use the materials to build your own base. Thereby, resist attacks from monsters as well as protect himself from the harsh elements of the hell land of Valheim.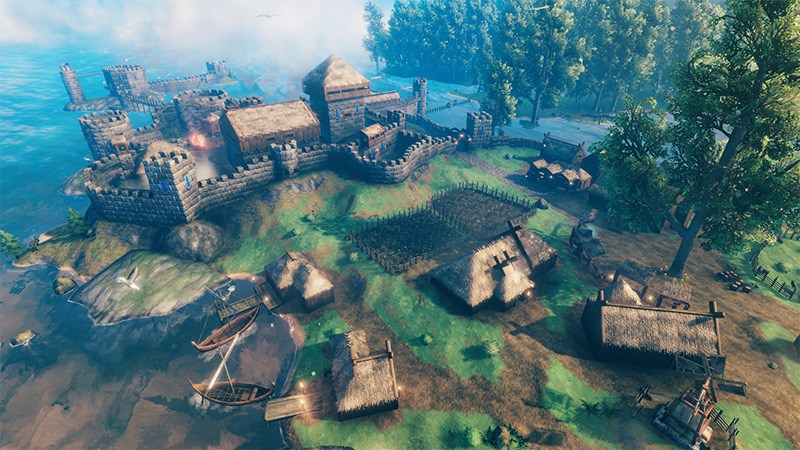 Unleash the domain building according to your own preferences
IV. Sound and graphics
1. Sound
Valheim owns an extremely realistic sound quality, giving players an exciting and engaging experience. Depending on the land, each scene as well as the context in which the background music of the game changes to give players the most authentic feelings. Moreover, with extremely detailed sound effects such as rustling leaves, wind or thunder, storms, … all contribute to Valheim becoming extremely attractive to players. .
In addition, the battle effect is elaborately elaborated. You will be able to feel the power and power through the sound of weapons, explosions or finishing blows. Thereby can bring you the best experience with Valheim.
2. Graphics
With 8 natural landscapes and countless different animals, creatures and beasts. Valheim gives the player the most authentic view of the Underworld in Norse mythology. Each area in the game will be a completely different color tone, with unique characteristics from trees to creatures. Besides, is the extremely perfect design of equipment and tools, thereby helping players get the best visual feelings.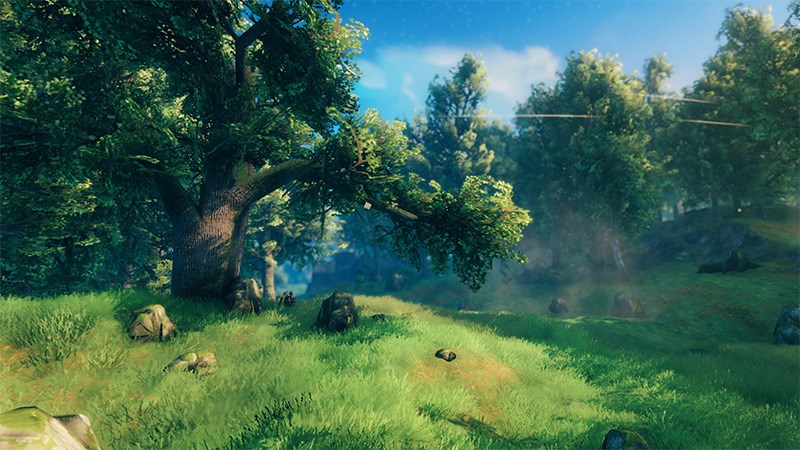 Graphics quality is extremely flawless
In addition, Valheim also has an extremely unique visual effect. With extremely satisfying combat effects, giving players the most intense and engaging battles. Thereby helping Valheim score absolute points with the player in both listening and seeing.