Diamond Glass 1.16.5, 1.15.2,1.15.1 and  1.14.4 is a mod that aims to allow us to create glass and building blocks that can withstand even explosions as if they were obsidian blocks. However, this functionality will not be economical because we will need diamonds to create these blocks and crystals. Explosion-resistant blocks, stairs, s handles and glass.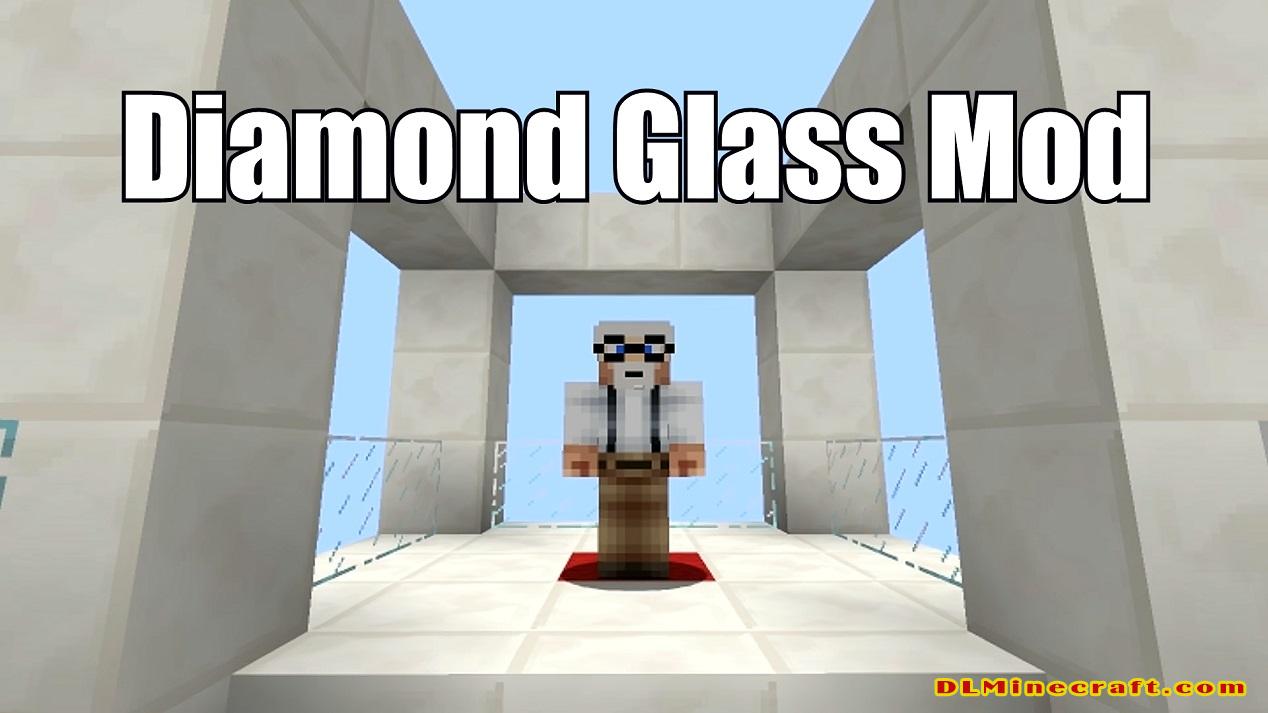 With this mod installed, you can manufacture explosion-resistant glass blocks and glass panels. You can also create building blocks, stairs and s handle resistant to explosions, which will allow you to have an alternative to obsidian.
This new material, called Diamond Glass, is the result of combining sand and diamonds. As this is a rigid material, we will also have a hard time removing the blocks once placed.
I wanted a really strong glass but without adding a mod that added lots of other stuff I didn't need. 
The glass in this mod is based on diamond and sand. The diamond glass blocks, panes, slabs, and stairs have the blast resistance of obsidian, are hard as heck to remove once placed, and have that special texture where they are both seamless and having no membranes. The remainder of the support blocks are based on sand and are only added because they are a natural progression of the Diamond Sand block.
Features
Config for both server and GUI for client.
You can change the hardness and explosion resistance of the two types of blocks provided.
The Diamond Glass variant can be set to invulnerable making it ideal for Wither and Ender Dragon Museums!
Modpacks
Yes you can use my mod in your pack.
I'm to blame!
I was doing things in a registry function that belonged in a biome event.
The config was made to be a little more sensible and I added some new parameters that allow you to change the min/max spawn height of diamond sand.
You'll be able to tell from the new parameters that more is in-store for the future of this mod.
I also plan to have some blocks you're supposed to craft enter the over world and begin to replace existing counterparts. [not implemented]
FAQ:
Which is the latest version of Minecraft Forge?
The latest version of Minecraft Forge is 1.16.5. The latest recommended version of Minecraft Forge is 1.15.2; Minecraft Forge (Modding API) is heavily installed at versions 1.15.2,1.12.2. Some mods require a specific version of Minecraft Forge. New version of Minecraft Forge 1.16.5 has less testing, and many mods do not support it.
How do you download Minecraft Forge?
First, head to Minecraft forge and download the program. You want to make sure that you download the version of Forge that corresponds to the version of Minecraft you have, Select the Minecraft Forge menu on the right side of this website.
Do you have to have Minecraft to use forge?
Yes, Make sure you have Minecraft installed.Minecraft Forge only works for Minecraft: Java Edition. Minecraft for PC, XBox One and PS4 cannot be modded.
Is modding Minecraft illegal?
No, modding Minecraft is not illegal.
Related Mods:
How to install Diamond Glass Mod With Forge
Make sure you have Minecraft Forge
Download Diamond Glass Mod file from link(s) below/above
On PC Windows, Go to the Start menu
Type:  %appdata%/.minecraft
Press Enter to Run %appdata%/.minecraft
On macOS open finder, hold down ALT, and click Go then Library in the top menu bar. Open the folder Application Support and look for Minecraft.
Go to minecraft/mods folder
If Mods folder does not exist, create one
Put Diamond Glass Mod file into the mods folder
Launch Minecraft using Forge Profile, then Open Menu
Now we can find tea trees in Minecraft!
Minecraft Forge(Modding API) Installation Guide
5 steps to successfully install Forge Minecraft
1. Access and Download select Minecraft forge version, then download the installer.
2. Requires installing Java on a computer. Open the .jar file you just downloaded, make sure 'Install Client' is selected, and click the OK button.
3. Run Minecraft and select the Forge profile, then click Play.
4. Select the Minecraft Forge menu on the left and the Mods button below Multiplayer.
5. Successfully, you can enjoy the mod just installed.
Download Diamond Glass Mod for Minecraft 1.16.5, 1.15.2,1.15.1 and  1.14.4