Immersive Railroading Mod 1.15.2=>1.16.5 adds a novel style of transportation to Minecraft thanks to its life-sized trains. For full functionality, it is recommended to integrate this mod with Open Computers and Immersive Engineering.
If you are looking for a new way of transporting systems for both players and item to your Minecraft, you should not skip Immersive Railroading Mod. It uses life-sized trains which are based on real physics to bring the freedom of travelling to any gamers. The track styles and components make it easy for users to control the train along their way. Just keep on reading to see what the current features are and whether it is good to use this mod in Minecraft.
Current features of Immersive Railroading Mod
The latest version of Immersive Railroading Mod is the 1.16.5. It is integrated with so many new functions to enhance users' experience. Check out the list below and tell us your most favorite ones:
The transport system includes both item and fluid which can support various track gauges like Narrow, Model, Standard, Minecraft and Brunel. Thanks to the wealth of resource packs, users can easily create their own stock or models
All the movable trains are based on life sized physics on the real world
The track system is flexible for everyone to adjust to their desired condition
The rolling stock is modern enough to not only craft different components of a train but also place a frame and assemble or wrench it with just a right click
Chukloading and coupling
Amazing sound
How to make your train run in Immersive Railroading Mod correctly?
As we have mentioned above, it is not difficult to use Immersive Railroading. However, for those who are still new to this mod, we will introduce some techniques that can help you in the very first steps with the train.
In order to run your train, you need to add water to it with the support of a Track Loader or a Water Bucket in the Settings. Next, put some coal under the water box to heat the water up. Once the water reaches 100 degrees, it's time for the pressure to increase and your train will run immediately right after that. To make sure the train runs smoothly, don't forget to disengage the air brake while adjusting the throttle to its maximum.
With biodiesel locomotors
First of all, instead of water, you fuel your train with biodiesel. Then, make the engine start to heat the biodiesel up and your train will be ready to run in a few seconds.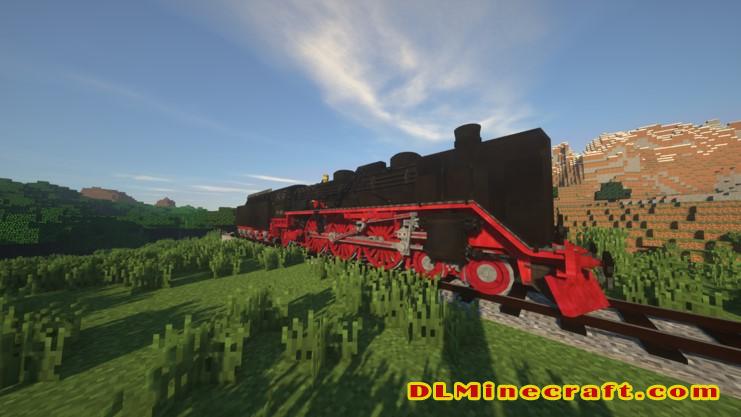 To sum up, Immersive Railroading Mod is so powerful. It introduces new ways of transportation to the gamers. It works well with different mods and it is super simple to handle. But before trying Immersive Railroading, you should install Universal Mod Core and Track API to run the mod smoothly.
How to install Immersive Railroading Mod With Forge
Make sure you have Minecraft Forge
Download Immersive Railroading Mod file from link(s) below/above
On PC Windows, Go to the Start menu
Type:  %appdata%/.minecraft
Press Enter to Run %appdata%/.minecraft
On macOS open finder, hold down ALT, and click Go then Library in the top menu bar. Open the folder Application Support and look for Minecraft.
Go to minecraft/mods folder
If Mods folder does not exist, create one
Put Immersive Railroading Mod file into the mods folder
Launch Minecraft using Forge Profile, then Open Menu
Now we can find tea trees in Minecraft!
Requires:
Track API

In-Game Wiki Mod (Optional)

OpenComputers Mod (Optional)

Immersive Engineering Mod (Optional)
Minecraft Forge(Modding API) Installation Guide
5 steps to successfully install Forge Minecraft
1. Access and Download select Minecraft forge version, then download the installer.
2. Requires installing Java on a computer. Open the .jar file you just downloaded, make sure 'Install Client' is selected, and click the OK button.
3. Run Minecraft and select the Forge profile, then click Play.
4. Select the Minecraft Forge menu on the left and the Mods button below Multiplayer.
5. Successfully, you can enjoy the mod just installed.
Download Immersive Railroading Mod for Minecraft 1.16.5, 1.15.2, 1.14.4, and 1.12.2
We do not host any Minecraft mods on our website! If you have any problem, please leave a comment below and we will help you