What is Macro/Keybind Mod?
MacroKey Keybinding 1.12.2,1.11.2,1.10.2,1.9,1.8.9…and 1.7.10 is a mod that will make it easier for us to use the commands in Minecraft. With this mod installed, you can assign commands to keys on your keyboard, so you'll save yourself having to type complex commands several times, and you don't have to remember them to be able to use them.
How it works is simple, as it is based on the same process that we would do to change the functions of certain keys within the game. The mod, using a graphical interface, allows us to type a command and give it a different name, for example "/command", or assign it a key that executes the command each time we press that key.
One of the biggest complaints I have found about macro mods in the past is that they aren't for forge, but also that they sometimes just don't work on servers without the mod installed on the server.
With MacroKey I made that the mod is fully functional while in single- and multiplayer worlds. No server-side mods required! MacroKey has easy to use and understand GUIs and powerful commands. MacroKey is the most chosen macro mod for Minecraft, this because it's simple but can be very robust.
How to install MacroKey Keybinding for Minecraft?
Download installed LiteLoader.
Download MacroKey Keybinding
Paste the downloaded mod file into the .minecraft/mods folder
Place the mod you have just downloaded (.litemod file) into the Mods folder.
When you launch Minecraft and click the mods button you should now see the mod is installed.
Check the Controls screen in the Minecraft configuration to make sure there are no conflicts with other keys you use. This mod adds pages to the Controls screen for enhanced configuration of any mods which add custom keys.
That's how easy it is to use commands in Minecraft!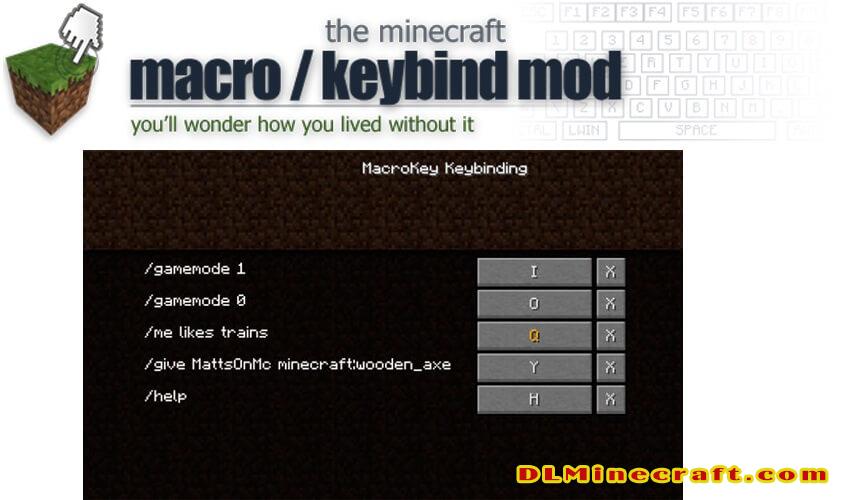 To server admins wondering what this mod does:
MacroKey does not add/modify any vanilla chat mechanics to the player's advantage.
A small disclosure for the haters <3
For the people wondering, yes I know that the Macro / Keybinding mod is similar to this mod and is named similarly.
I, however, found out about that mod after deciding on the name and publishing of MacroKey. My mod does not contain any of the original sources of Macro / Key bind or Command Keybindings, nor have I considered looking at Macro/Key or Command Keybind for features.
Features:
Bind chat commands and scripts: to keyboard keys, mouse buttons and custom menus.
Easy to use GUI: Just activate the mod then just press the key you want to bind. No need to memorize key codes or names!
Bind keys which are already used for something else: Want to put a macro on the number keys or WASD? Using the override function you can use these keys for both their normal function or as macros when you need them.
Edit keybinds quickly: Change your binds whenever you want. You can even copy and move macros from key to key with drag 'n drop.
Multiple configurations: Different binds in different servers? No problem! It even switches automatically.
In-game text editor: Want to make a complex macro? No need to alt-tab to notepad, create and edit text files inside minecraft.
Lots of easy-to-use parameters: Lists of friends, automatic responses, warp points, towns, you name it.
Scripting: Build custom auto-announcers, time-delay messages, or create your own auto-walk, toggleable-sneak or sprint keys.
Custom GUIs: Create your own custom GUI and hook up your macros for instant in-game menus.
Permissions System: Server admins can lock down chosen features of the mod using the easy-to-setup Client Permissions plugin, allowing seamless integration with the server's existing rank system.
To bind keys:
In-game, simply press [SNEAK KEY]+GRAVE (change the key in the options if this doesn't work for you) and you will be prompted to press a key.
Press the key you would like to bind or click it on the on-screen keyboard
Enter the chat command (including the / at the start), separate multiple commands with pipe "|"
Press ENTER to save the keybind, press ESC to cancel it. To edit a keybind repeat the same process.
How to use keybinds?
If the key doesn't have any other function (eg. it is not bound to any other built-in command or function) then just press the key
If the key is bound to another function (such as the WASD keys or T,I etc) press your [MACRO ACTIVATE] key (as you set in the options) followed by the key.
Alternatively if the key is bound to another function press [MACRO OVERRIDE]+[KEY] (again, you can set this in the Controls screen)
Download Macro/Keybind Mod for Minecraft 1.12.2,1.11.2,1.10.2,1.9,1.8.9…and 1.7.10