Mutant Beasts Mod 1.16.5, 1.15.2,1.14.4 and 1.12.2 is a mod that will allow you to enjoy the company of strange mutant creatures that will be extremely hostile to your character, will have much higher dimensions than usual and have special abilities and attack and defense stats far superior to the default creatures in Minecraft. Mutant creatures, and giants, return to the current version of Minecraft.
The process of converting from a normal creature to a zombie creature is done using a new object, called Chemical X. If we throw this item at a zombie, Creeper, Enderman, Snow Golem, or skeleton, they will become, respectively, Mutant Zombie, Mutant Creeper, Mutant Enderman, Mutant Snow Golem, and Mutant Skeleton.
Mutant Beasts Mod 1.16.5, 1.15.2,1.14.4 and 1.12.2 brings back the popular Mutant Creatures mod to modern Minecraft, after four years without an update.
The original mod required another mod to work, which was called AnimationAPI, which is also the work of the Mutant Creatures creator, which for now is integrated into this mod.
(All credits for the content made goes to shcott21/thehippomaster21).
(For the time being, none of the mobs spawn in survival, as the author wants to make sure there are no game-breaking bugs.)
(When you reload an existing world with the mod, you'll get the message "ForgeModLoader detected missing registry events". It is safe to click yes.)
– Chemical X brewing recipe should now show up in JEI, recipe now follows vanilla brewing recipes by requiring an awkward potion instead of a thick potion
– Added Russian localizations
– Added spawn egg for endersoul clone
– Reduced mutant skeleton initial aggro range from 96 to 50 blocks
– Fixed mutant skeleton armor causing a bow to shoot two arrows at once
– Fixed throwable blocks held with an endersoul hand losing its owner when reloading the world
– Fixed minor rendering issues with endersoul hands, clones and fragments
– Fixed mutant endermen sometimes not showing death animation after teleporting
– Fixed mutant zombies converting modded villagers causing a crash
– Fixed some mutants not appearing red when damaged with shaders enabled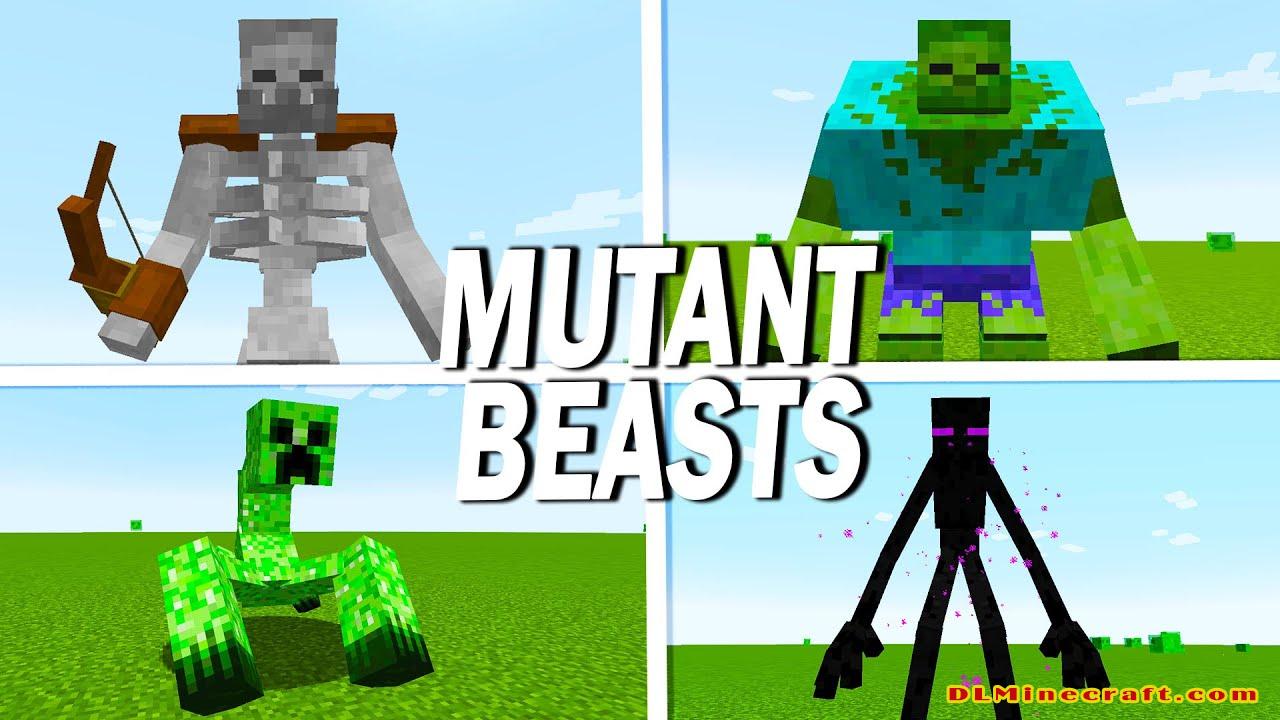 How to install Mutant Beasts Mod With Forge
Make sure you have Minecraft Forge
Download Mutant Beasts Mod file from link(s) below/above
On PC Windows, Go to the Start menu
Type:  %appdata%/.minecraft
Press Enter to Run %appdata%/.minecraft
On macOS open finder, hold down ALT, and click Go then Library in the top menu bar. Open the folder Application Support and look for Minecraft.
Go to minecraft/mods folder
If Mods folder does not exist, create one
Put Mutant Beasts Mod file into the mods folder
Launch Minecraft using Forge Profile, then Open Menu
It's time to trade in Minecraft!
Minecraft Forge Installation Guide
5 steps to successfully install Forge Minecraft
1. Access and Download select Minecraft forge version, then download the installer.
2. Requires installing Java on a computer. Open the .jar file you just downloaded, make sure 'Install Client' is selected, and click the OK button.
3. Run Minecraft and select the Forge profile, then click Play.
4. Select the Minecraft Forge menu on the left and the Mods button below Multiplayer.
5. Successfully, you can enjoy the mod just installed.
Download Mutant Beasts Mod for Minecraft 1.16.5, 1.15.2,1.14.4 and 1.12.2