The Waving Plants Shaders 1.17.1 → 1.16.5,1.12.2 Pack is a great choice for those who love the waving plant effect. The pack includes shaders that give you an endless supply of plants to decorate your world with, and they never stop waving no matter what's going on in-game!
The shaders in the Waving Plants pack are designed to give plants a waving effect, making them look more lifelike. While this might sound simple enough at first glance it is important not only for how they appear but also what can be done with these textures and models by players of all levels alike! For example; some authors may use too many waves or make their plants move back-and forth constantly instead of just gently swaying like real life counterparts do when under windy conditions which makes it difficult if not downright impossibleto navigate your player through an environment without getting caught up among long grasses that keep moving despite how hard you push against them.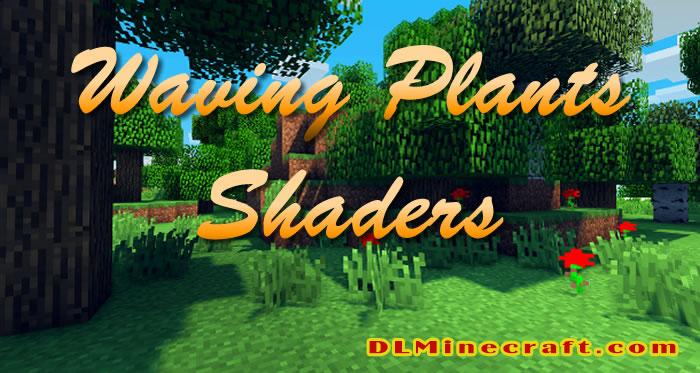 The Waving Plants Shaders Mod 1.17.1 → 1.16.5,1.12.2 is a simple shader for Minecraft that does not change lighting but only adds animation of water, plants and foliage to trees. Too much plant waving can instantly do away with any sense of realism and destroy the player's suspension-of disbelief which isn't really fun for anyone . In this pack ,the flora waves at different speeds throughout day so it seems more alive when sun out or sort settle down after night falls (which makes night time viewings easier).
Many Minecraft users experience a decrease in their FPS when using the Waving Plants Shaders but there are some simple steps for resolving these issues. For starters, turn on multicore rendering if your CPU has multiple cores and the setting hasn't already been activated; this will force all processing responsibilities onto each processor available which can net an improvement in performance significantly higher than before! Lowering render distance or turning off smooth lighting may also help reduce strain on hardware while still maintaining quality–though it's rather counterintuitive considering that most shader packs would have you believe otherwise with how much attention they pay towards enhancing graphics during actual gameplay sessions.
How to install:
Download and install GLSL Shaders
Download the Shader
Without unpacking, copy to .minecraft\Shaderpacks
Launch Minecraft
In the settings, click the "Shaders …" button, select the desired shader from the list and click "Done"
Done!
Download Waving Plants: