KUDA Shaders 1.17.1 → 1.8.9 is a popular shaders mod of Minecraft 1.17 that many people are giving try, including myself! It has cool special effects like the volumetric fog and default textures without unwanted motion blur or strange other things which give just enough options players want while still retaining some aspects from older mods such as Harsh Lighting for an improved gaming experience with better looks overall.
Install KUDA Shaders with optifine and  GLSL Shaders Mod. 
Happily exploring the world of Minecraft with this new KUDA Shaders mod installed, players will be able to see their surroundings change seamlessly. With a volumetric fog that seems like it's alive and breathing in its default form or textures without motion blur for those who want higher frame rates at all times – there are simply no flaws worth mentioning here!
KUDA Shaders — Video & Screenshots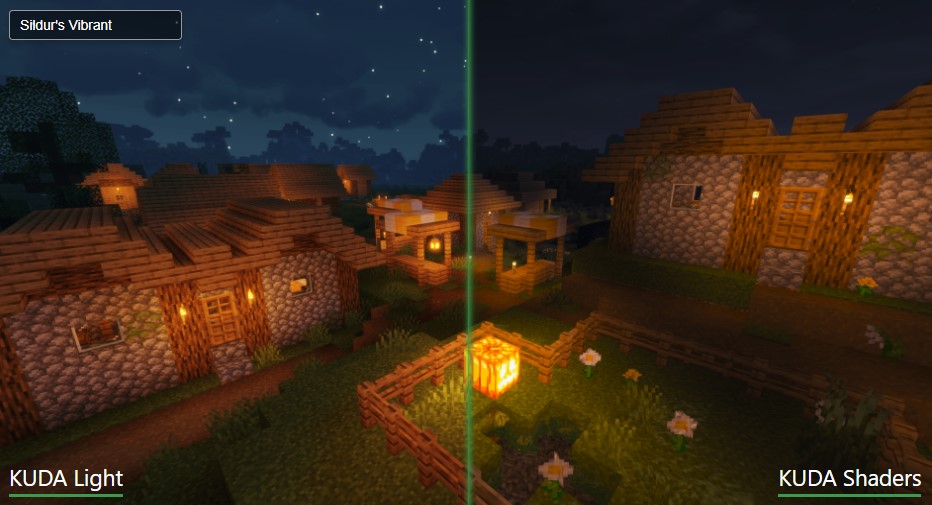 How to install?
-Download and install Minecraft;
-Setup your game profile for the version you want to run;
-Download and install Optifine; – optifine will create its own profile
-Open Minecraft launcher and select the newly created optifine profile;
-Download the KUDA shaderpack from the links below;
-Now go to:
Windows => %appdata%\.minecraft
Mac OS X => ~/Library/Application Support/minecraft
Linux => ~/.minecraft
-Launch Minecraft;
-Open Options > Video Settings > Shaders > Shaderpack folder;
-Put the KUDA shaderpack (zipped file) inside .minecraft\shaderpacks;
-Select the KUDA shaders in the shader list in-game;
– Enjoy! The KUDA Shader 1.17.1 to 1.8.9: Bloom Effects and Light Flares
Download KUDA Shaders 1.17.1 → 1.8.9
DeDelner is the creator of KUDA Shaders