ProjectE 1.16.5, 1.15.2,1.15.1 y 1.14.4 is a complete rewrite of a mod that was once very popular, Equivalent Exchange 2. This mod was based on the idea of transmutation, allowing players to turn many invaluable elements into few precious pieces. Remember the Equivalent Exchange 2? Well, here you go.
To achieve this, the mod will allow us to use transmutation tables, capacitors, collectors and various alchemical elements. Also, you can continue to manufacture the original gadgets of the mod, such as the rings that allow you to fly in survival mode.
But there's nothing left here, we'll be able to re-produce Anti-Matter, get Moebius Fuel and make use of the mythical Philosopher's Stone, among many other alchemical devices and exciting things that were present in Equivalent Exchange 2.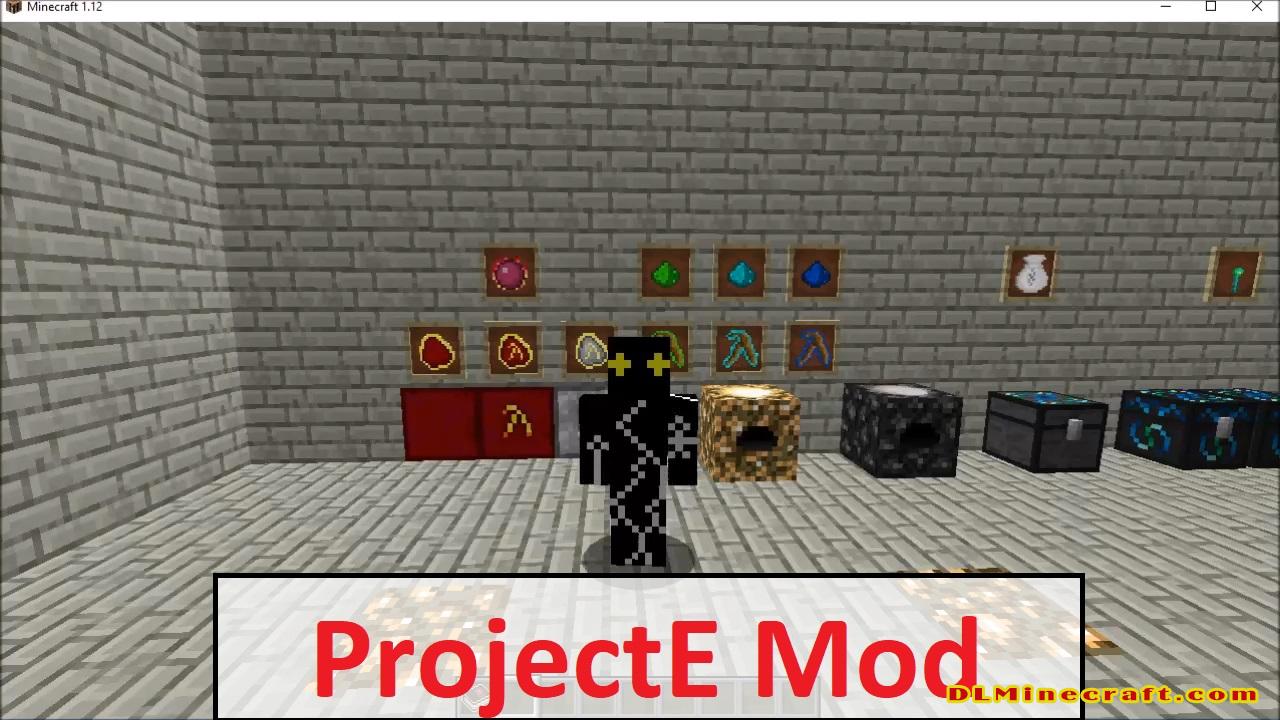 This mod is in the beta update phase, so it can still contain bugs or bugs. We will be publishing their respective updates in this same article.
There is no denying that starting your alchemy journey with ProjectE Mod 1.15.2 may not be an easy task for you. In fact, starting this mod requires you to fully grasp how to use a complex new set of items, blocks, and weapons. However, once you have everything, ProjectE Mod quickly becomes a useful tool for you. When all goes well, ProjectE Mod 1.15.2 will make you feel like a full-fledged alchemist. Thanks to that, you can discover all new content in the Minecraft world.
However, this mod also has the disadvantage and  biggest  disadvantage  of ProjectE Mod 1.15.2 is accessibility. Also, some of the texture used in the new content of the package is pretty bad. And while textures are quite faithful to Minecraft's original art style, they can be significantly affected when you use this mod. If you love alchemy and transformation, then ProjectE Mod 1.15.2 is not a bad choice.
Pros
– Added a lot of new items, blocks and weapons
– Provides detailed and comprehensive alchemy game mechanics
– Inheritance of the original Equivalent Exchange 2 Remake mod
Cons
– You may find it quite overwhelming to start
– Some of the textures are pretty bad
– Not much else.
All in all, with ProjectE Mod, you can rest assured that you are using fair mods that do not disrupt or disturb the gameplay of other players. Hopefully, you will have an enjoyable experience when using this mod
A complete rewrite of EE2 (Equivalent Exchange 2) for modern Minecraft versions. Transmutation tables, collectors, condensers, flying rings, and all the other trinkets you love are here.
Fix and update:
Version 1.15.2-PE1.0.4
NOTICE: When reporting issues on the tracker please be sure to tag them as 1.15
NEW: Extra logging to help diagnose crafting mapper issues
NEW: Missing coal conversion recipes from EE2 have been added
FIXED: Morning Star mode switching
FIXED: Swiftwolf affecting player fired projectiles
FIXED: Update check error when it is disabled
FIXED: Ores no longer have EMC by default
FIXED: InternalAbilities have been tweaked. Step assist should be less likely to conflict
FIXED: Interdiction Torch rendering
FIXED: An error displayed when shutting down a server running Forge 31.1.87 or higher
FIXED: The display of EMC values above 1 billion
CHANGE: Harvest Goddess Band has seen improvements and a blacklist
FAQ:
Which is the latest version of Minecraft Forge?
The latest version of Minecraft Forge is 1.16.5. The latest recommended version of Minecraft Forge is 1.15.2; Minecraft Forge (Modding API) is heavily installed at versions 1.15.2,1.12.2. Some mods require a specific version of Minecraft Forge. New version of Minecraft Forge 1.16.5 has less testing, and many mods do not support it.
How do you download Minecraft Forge?
First, head to Minecraft forge and download the program. You want to make sure that you download the version of Forge that corresponds to the version of Minecraft you have, Select the Minecraft Forge menu on the right side of this website.
Do you have to have Minecraft to use forge?
Yes, Make sure you have Minecraft installed.Minecraft Forge only works for Minecraft: Java Edition. Minecraft for PC, XBox One and PS4 cannot be modded.
Is modding Minecraft illegal?
No, modding Minecraft is not illegal.
Related Mods:
How to install ProjectE Mod With Forge
Make sure you have Minecraft Forge
Download ProjectE Mod file from link(s) below/above
On PC Windows, Go to the Start menu
Type:  %appdata%/.minecraft
Press Enter to Run %appdata%/.minecraft
On macOS open finder, hold down ALT, and click Go then Library in the top menu bar. Open the folder Application Support and look for Minecraft.
Go to minecraft/mods folder
If Mods folder does not exist, create one
Put ProjectE Mod file into the mods folder
Launch Minecraft using Forge Profile, then Open Menu
Now we can find tea trees in Minecraft!
Minecraft Forge(Modding API) Installation Guide
5 steps to successfully install Forge Minecraft
1. Access and Download select Minecraft forge version, then download the installer.
2. Requires installing Java on a computer. Open the .jar file you just downloaded, make sure 'Install Client' is selected, and click the OK button.
3. Run Minecraft and select the Forge profile, then click Play.
4. Select the Minecraft Forge menu on the left and the Mods button below Multiplayer.
5. Successfully, you can enjoy the mod just installed.
Download ProjectE Mod for Minecraft 1.16.5, 1.15.2,1.15.1 and 1.14.4