Summary
Welcome to the Rediscovered Mod! The purpose of this modification is to add in anything that has been unused, unimplemented, or removed from Minecraft's files! It covers a wide variety of topics that could have made it into the vanilla game but sadly, did not. In fact, that is one of the goals for this mod! To possibly see some of these features added into the vanilla game!
This version works on 1.16.4 and 1.16.5
– Fixed a bug where mob had wrong entity type
– Added incomplete Hebrew and Turkish translations
– Updated Spanish (Spain), Polish, and Portuguese (Brazil) translations
– Issue with missing rose and ruby item textures
Rediscovered 1.16.5, 1.15.2, 1.14.4, and 1.12.2 offer us the possibility to enjoy all that content that was one day about to become part of the game that we know today, but that, for whatever reason, did not end up becoming part of Minecraft. This content refers to peaceful creatures, hostile creatures, new characters, a new dimension, and various blocks and decorative objects. We can already play with everything that one day was created, but that never came to Minecraft.
With this mod installed, you can find the original Pigmans, who were pigs, you can play with the first Minecraft characters, fly over a red dragon, encounter zombie horses, and skeleton horses. You can make furniture such as tables, chairs, fine rubies underground, craft new weapons, tools and make a box, which can be linked to the armor breastplate, among other things.
The mod will also allow you to explore the Skylands dimension, which has not become part of the game. It is a dimension made up of floating islands, which represents a dimension opposite the Nether. To access this dimension, you have to make an object called "Dream Pillow," place it in the character's hand, and right-click on the mouse on your bed. When night comes, if we sleep on a mattress, we'll access Skylands.
This mod is in the beta update phase, so it can still contain bugs or bugs. We will be publishing their respective updates in this same article.
Skylands Dimension

The Sky Dimension was a planned dimension in Minecraft, intended to be the opposite of the Nether. Using the buffet world generation option, a player can generate a partial recreation of the original concept. – from Minecraft Wiki, Java Edition mentioned features/Sky dimension
In this mod, for the Sky dimension, it is using the same noise generator as it did in Minecraft beta, so the World Generation is exactly identical as it would've been.
 How do I get to this dimension?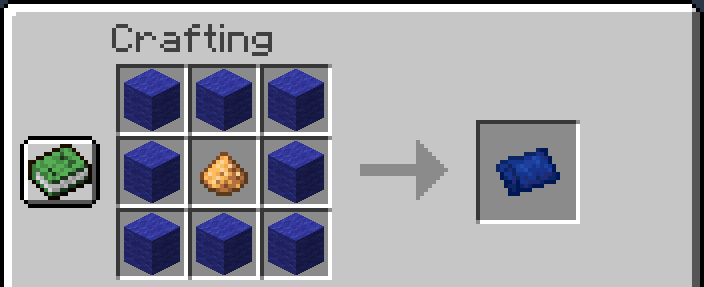 You can get to the Sky dimension by crafting a Dream Pillow and then right clicking on a Minecraft bed at night. You can craft this by putting Glowstone Dust in the middle and then surrounding Blue Wool all around it.
Ruby

Rubies were changed to emeralds because Dinnerbone is red-green colorblind and couldn't tell the difference between redstone ore and ruby ore, so it was changed at the last minute. Rubies generate in the overworld. It's rarity is similar to gold ore but is in smaller veins.
Trading with Pigman

You can trade with the Pigman in the Sky dimension. Their trades are designed to be more fair and you can obtain classic wool colors.
Mobs

The first four mobs below are MD3 Models. On Notch's blog, he talked about their design on this post. You can also find information about those Steve, Black Steve, Beast Boy, and Rana on this section of Minecraft Wiki. All of the mobs you see below were either in the game at some point during development, completely scrapped, removed, or was planned but never happened. For more information about the mobs, please check out the mobs page.
Blocks

This mod adds back removed blocks such as the Crying Obsidian, Gears, Dirt Slabs, Tables, Chairs, Locked Chests, Spikes, Ruby Ore, Ruby Block, Red Dragon Egg and Scarecrow. You can also see a cherry tree in the background that generate naturally in the Skylands.
⛏️ Items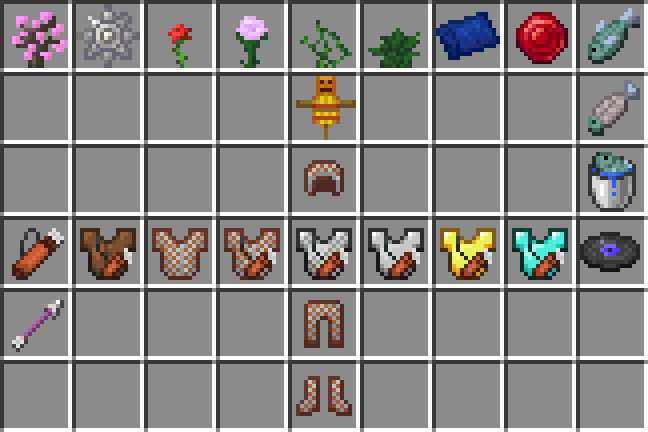 From left to right, you can see the Cherry Sapling, Gears, Rose, Paeonia, Empty Rose Bush, Empty Peony Bush, Dream Pillow, Ruby, Fish, Cookied Fish, Fish Bucket, Scarecrow, Studded Armor, Purple Arrow, Singular Quiver, Chestplates with Quivers, and the Calm4 Music Disc by Notch
📝 Credits
Stormister for letting us port the Rediscovered mod to the latest versions of Minecraft.
KingPhygieBoo for porting and programming the mod across Minecraft versions.
Lachney for documenting the mod.
MCVinnyQ for retexturing things to fit better with Minecraft 1.14.4.
Gentle_Stream for helping to make the smoother, better looking rotating gear.
Air4ce for helping out with testing in the earliest stages of the mod.
Firearm_Freak for helping out with testing in the earliest stages of the mod.
tiptopsmash for helping out with testing in the earliest stages of the mod.
FAQ:
Which is the latest version of Minecraft Forge?
The latest version of Minecraft Forge is 1.16.5. The latest recommended version of Minecraft Forge is 1.15.2; Minecraft Forge (Modding API) is heavily installed at versions 1.15.2,1.12.2. Some mods require a specific version of Minecraft Forge. New version of Minecraft Forge 1.16.5 has less testing, and many mods do not support it.
How do you download Minecraft Forge?
First, head to Minecraft forge and download the program. You want to make sure that you download the version of Forge that corresponds to the version of Minecraft you have, Select the Minecraft Forge menu on the right side of this website.
Do you have to have Minecraft to use forge?
Yes, Make sure you have Minecraft installed.Minecraft Forge only works for Minecraft: Java Edition. Minecraft for PC, XBox One and PS4 cannot be modded.
Is modding Minecraft illegal?
No, modding Minecraft is not illegal.
Related Mods:
How to install Rediscovered Mod With Forge
Make sure you have Minecraft Forge
Download Rediscovered Mod file from link(s) below/above
On PC Windows, Go to the Start menu
Type:  %appdata%/.minecraft
Press Enter to Run %appdata%/.minecraft
On macOS open finder, hold down ALT, and click Go then Library in the top menu bar. Open the folder Application Support and look for Minecraft.
Go to minecraft/mods folder
If Mods folder does not exist, create one
Put Rediscovered Mod file into the mods folder
Launch Minecraft using Forge Profile, then Open Menu
Now we can find tea trees in Minecraft!
Minecraft Forge(Modding API) Installation Guide
5 steps to successfully install Forge Minecraft
1. Access and Download select Minecraft forge version, then download the installer.
2. Requires installing Java on a computer. Open the .jar file you just downloaded, make sure 'Install Client' is selected, and click the OK button.
3. Run Minecraft and select the Forge profile, then click Play.
4. Select the Minecraft Forge menu on the left and the Mods button below Multiplayer.
5. Successfully, you can enjoy the mod just installed.
Download Rediscovered Mod for Minecraft 1.16.5, 1.15.2, 1.14.4, and 1.12.2