Download Simple Farming Mod 1.16.5/1.15.2/1.14.4 for Minecraft. Awesome!
Simple Farming Mod 1.16.5/1.15.2/1.14.4 is a modification for agriculture purposes. It features lots of meals, vegetables as well as many new fruits.
The mod takes the vanilla farming system to the next level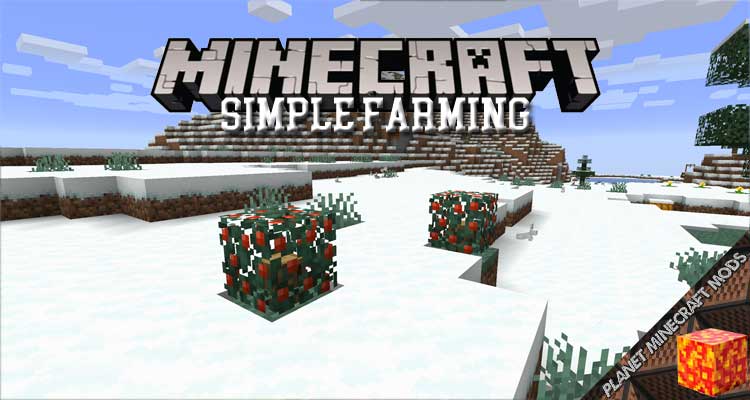 This Farming mod aims to extend the crop system in Minecraft. It was created to make players feel more excited about planting crops in the game. At the same time, the mod will make the agriculture system more diverse by adding new crops, fruits, and stuff to explore.
To get started, you need to smash some Grass blocks to get Seeds. There are plenty of seeds and crops for you to obtain. Besides, the mod allows you to get some new trees such as Banana Tree, Apple Tree, Plum Tree, etc. From the new crops, seeds, and trees added by the mod, you can make use of them to craft lots of new meals.
Details about the new crops and fruits in Simple Farming
Here is detailed information that you need to know about the new sources of plants in the mod:
About Cheese, you will need lots of cheese slices for making meals. To get the cheese slices, you have to create the wheel of cheese. Merge a milk bucket with a bottle of vinegar to create it.
About Seeds, there are many types of seeds for you to collect. You have to smash grass or wild crops based on the config options. Here are all the types of seeds you can collect:
Corn seeds
Cucumber seeds
Eggplant seeds
Cassava seeds
Ginger seeds
Grape seeds
Oat seeds
Honeydew seeds
Kenaf seeds
Carrot seeds
Onion seeds
Pepper seeds
Lettuce seeds
Cantaloupe seeds
Potato seeds
Rice seeds
Rye seeds
Soybean seeds
Tomato seeds
Radish seeds
Squash seeds
Spinach seeds
Yam seeds
You can harvest the seeds by just using the right mouse. For the recipes to craft meals, you should download Just Enough Items (JEI) mod.
Simple Farming can be operative in the game only when you already installed Minecraft Forge.
How to Simple Farming Mod
Here is the best guide to help you launch Simple Farming
Firstly, make sure that you have successfully installed Minecraft Forge and Mantle Mod!
Set the right location for the Minecraft application folder

From the Windows, please access Run on the Start Menu. Then, type "%appdata%" and choose the Run button.
From the Mac Open Finder, press down Alt and Left-click on Go -> Library on the top-screen menu bar. Enter the folder Application Support and search for "Minecraft"!

Drop the mod Simple Farming that you have already downloaded (.jar file) into the Mods directory!
After you embark on Minecraft and left-click on the Mods icon, you will find Simple Farming is set up!
Screenshots
Simple Farming Mod Download Links
For Minecraft Mod: 1.16.5
Download
For Minecraft Mod: 1.16.4
Download
For Minecraft Mod: 1.16.3
Download
For Minecraft Mod: 1.16.1
Download
For Minecraft Mod: 1.15.2
Download
For Minecraft Mod: 1.14.4
Download
Requires:
Something You Should Know:
We do not modify or edit the files in any way.
We use only links from the official developer, they are 100% safe.
If you have any questions about Simple Farming Mod 1.16.5/1.15.2/1.14.4, please leave a comment below and we will help you.
Reference source: