Download Superheroes X Mod 1.13.2/1.12.2 for Minecraft. Awesome!
What can be better than having two of your favorite things combined? CLICK for this Minecraft mods download The Superheroes X Mod 1.13.2/1.12.2!
If you're a hardcore lover of Minecraft and superheroes, this mod might just change your life forever. The Superheroes X Mod 1.13.2/1.12.2 adds a bunch of the main characters from both the DC and Marvel comics such as Deadpool, Black Panther, Iron Man, Ant-Man, etc.
After downloading the mod, you'll find a large chest with an array of superheroes. Apart from the suits itself, you'll also find different versions of the same characters.
Features Superheroes X Mod 1.13.2/1.12.2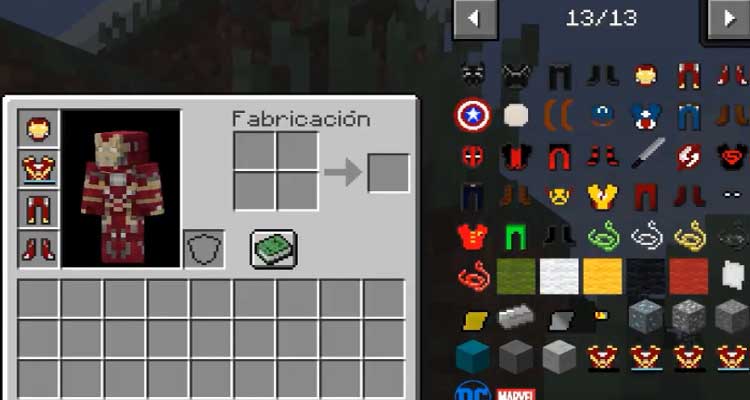 Each costume will have their own crafting recipe, but most importantly, you need a suit builder which consists of a suit assembly unit. You also can use a superdex to keep track of how many superhero items and suits that you own.
It can also give you information about your character, for example, their defense level, alter ego, ability, and tier.
The suits also have powers such as jump boost, resistance, regeneration, or health boost, depending on what character you pick. Additionally, you also get superhero weapons such as explosive Batman's Batarang, Thor's hammer, and others. In the chest, you also get an array of materials, which you can categorize and add to your inventory.
Final Words
Undeniably one of the most versatile and best mods around, there's no reason why you shouldn't give it a try. With many entertaining features and characters for you to test, you can finally fulfil your childhood dreams of wanting to be a superhero.
If you can't wait to discover the fun Minecraft Superhero X has to offer, it's available for free now.
Click on the link below to get this The Superheroes X Mod 1.13.2/1.12.2.
Superheroes X Mod Download Link
For Minecraft : 1.13.2
Download
For Minecraft : 1.12.2
Download
Requires:
Something You Should Know:
We do not modify or edit the files in any way.
We use only links from the official developer, they are 100% safe.
If you have any questions about Superheroes X Mod 1.13.2/1.12.2, please leave a comment below and we will help you.
Reference source: