Farming for Blockheads 1.16.5, 1.15.2,1.15.1 and 1.14.4 will allow us to manufacture a market block, where a villager will be responsible for providing us, through exchanges, objects related to livestock and agriculture., such as all kinds of seeds, bone dust, shrubs, flowers, animal eggs and mushrooms, among other things. A market stall and a villager with which to exchange objects.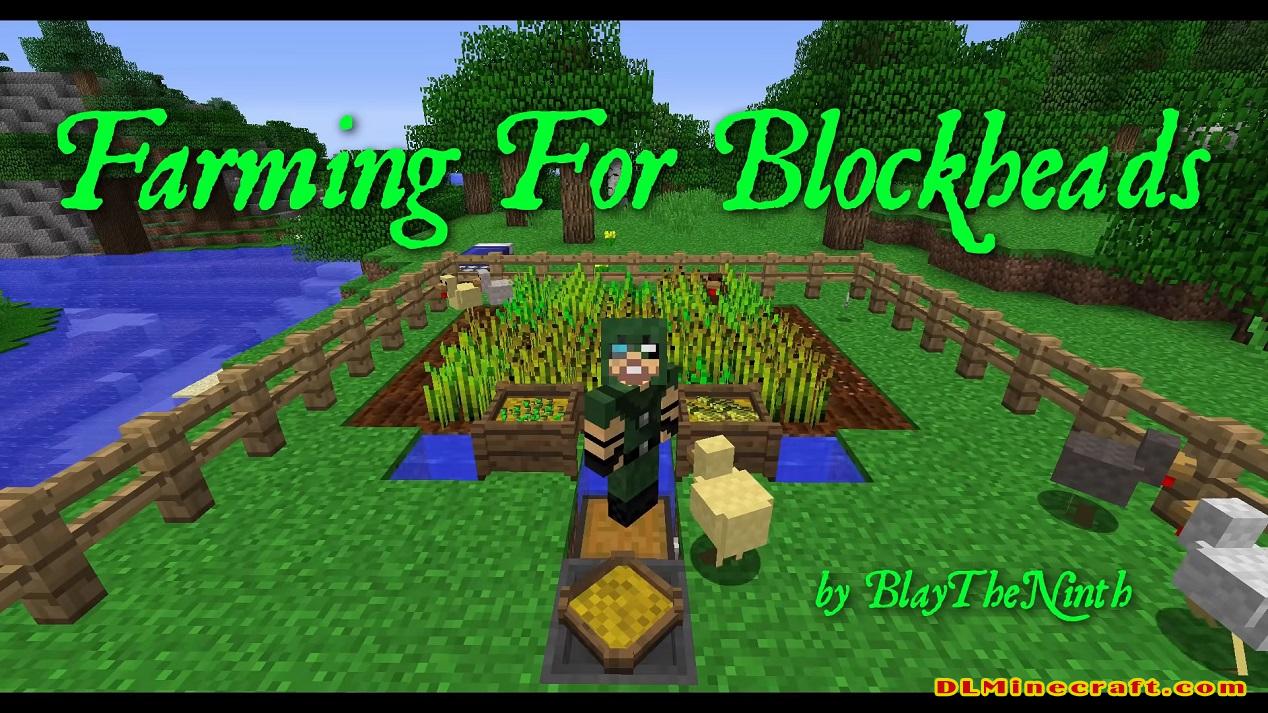 In addition to all of the above, the mod adds support for Biomes O' Plenty, so you can exchange all kinds of content that is not enough, is added by this mod. The mod also adds new types of fertilizers, nests for chickens or chickens, and feeders to improve the efficiency of our animal farms.
This mod adds a Market block to Minecraft, allowing you to buy seeds, saplings or other things such as bone meal. It also adds some farming utilties such as a Chicken Nest, a Feeding Trough, and Fertilizers to improve your crops.
The market allows searching and scrolling through trades, can filter by category, and is configurable to add further trades and categories to it.
Features:
Market block that sells seeds and saplings, can be configured to alter its trades further
Chicken Nest to collect chicken eggs laid by all those chickens
Feeding Trough to intelligently auto-feed animals
Fertilizer to improve crop output, groth or prevent tampering
Compatible with Pam's Harvestcraft, Biomes O' Plenty, Simple Farming and more
Compatible wiht Just Enough Items (Market Trades will show up)
Mod Showcase by Mischief of Mice
Custom Market Configuration
For information on how to customize the market trades, see the README on GitHub.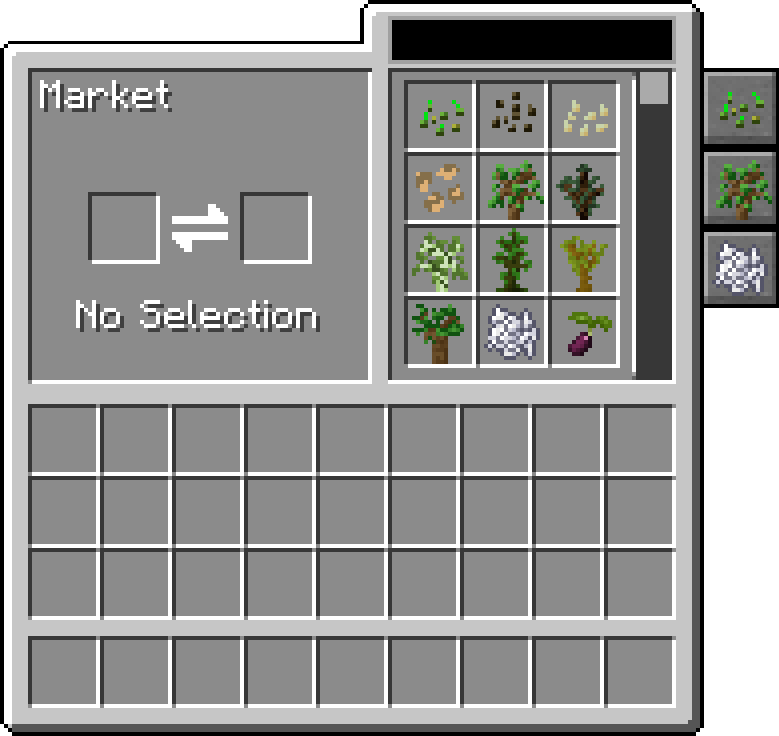 Crafting Recipes:
Market
The Market allows you to spend emeralds on seeds, saplings and bonemeal.
Usage:
To use the market, place it down somewhere and right-click it. You can select an item to buy on the right, put your payment in the slot on the left, and take out however many you want to buy from the center slot.
Allow JSON for market entries to be specified as String in order to support Minecraft's custom JSON features
Allow "count" to be used as count field for entryOverrides to be consistent with the other naming
Fixed dupe bug
FAQ:
Which is the latest version of Minecraft Forge?
The latest version of Minecraft Forge is 1.16.5. The latest recommended version of Minecraft Forge is 1.15.2; Minecraft Forge (Modding API) is heavily installed at versions 1.15.2,1.12.2. Some mods require a specific version of Minecraft Forge. New version of Minecraft Forge 1.16.5 has less testing, and many mods do not support it.
How do you download Minecraft Forge?
First, head to Minecraft forge and download the program. You want to make sure that you download the version of Forge that corresponds to the version of Minecraft you have, Select the Minecraft Forge menu on the right side of this website.
Do you have to have Minecraft to use forge?
Yes, Make sure you have Minecraft installed.Minecraft Forge only works for Minecraft: Java Edition. Minecraft for PC, XBox One and PS4 cannot be modded.
Is modding Minecraft illegal?
No, modding Minecraft is not illegal.
Related Mods:
How to install Farming for Blockheads Mod With Forge
Make sure you have Minecraft Forge
Download Farming for Blockheads Mod file from link(s) below/above
On PC Windows, Go to the Start menu
Type:  %appdata%/.minecraft
Press Enter to Run %appdata%/.minecraft
On macOS open finder, hold down ALT, and click Go then Library in the top menu bar. Open the folder Application Support and look for Minecraft.
Go to minecraft/mods folder
If Mods folder does not exist, create one
Put Farming for Blockheads Mod file into the mods folder
Launch Minecraft using Forge Profile, then Open Menu
Now we can find tea trees in Minecraft!
Minecraft Forge(Modding API) Installation Guide
5 steps to successfully install Forge Minecraft
1. Access and Download select Minecraft forge version, then download the installer.
2. Requires installing Java on a computer. Open the .jar file you just downloaded, make sure 'Install Client' is selected, and click the OK button.
3. Run Minecraft and select the Forge profile, then click Play.
4. Select the Minecraft Forge menu on the left and the Mods button below Multiplayer.
5. Successfully, you can enjoy the mod just installed.
Download Farming for Blockheads Mod for Minecraft 1.16.5, 1.15.2,1.15.1 and  1.14.4